Our appartment is situated in Delnice, the heart of Gorski Kotar, in quiet and peacefull place.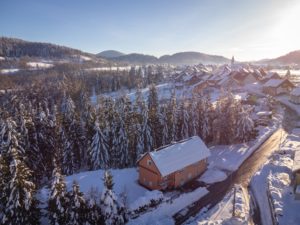 Appartment contains: 2 double bedrooms + 2 extra beds, bathroom, kitchen and living room.
Equipped devices: stove with oven, fridge, microwave oven, toster, kettle, mixer, napa, television in living room and bedroom,
hairdryer, iron and ironing board
We offer to our guests: – 3 motorcycle 125,250 and 650 cm3
– 4 bikes
– slades in winter
WINTER – if You want to enjoy in winter activities come to appartment "SARA" witch is situated near sledding area, also nearby is
skating rink, and to ski You can go to Petehovac, 2 km away, Mrkoplje or Begovo Razdolje about 18 km away.
SUMMER – if You want to avoid summer heat, enjoy in peace, quiet and beauty of nature, aroma of woods and clean air, and still
be near the sea (distant 30-40km) appartment "SARA" is the right place for You.
Here in Delnice You can enjoy in diferent activities: swimming in swimming pool, biking, walking, motorcycling.
Meet this nature beauties: Fužina and Lokve lake, with caves, Zeleni Vip, Devils Path, Kamačnik, spring of river Kupa. Brod on Kupa is 12 km away and there you can rent kayak and drive on the river Kupa.
Near Delnice is Risnjak, Bjelolasica, White and Samarske rocks.
So, don't hesitate – visit us!